LL0008 Single USB Outlet Car Charger
Step 2
Upload attachments
Please ensure that your file type must be TIF, BMP, GIF, JPEG, ZIP, PDF or DOC. The maximum capacity total for your uploaded file must be less than 30Mb.
* Wa Printing accepts NO responsibility for any copyright issues from the files you upload.
Comment for product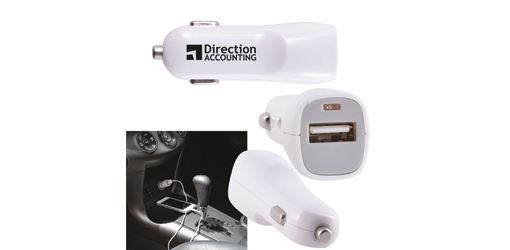 Description
Answer & Questions
The Single USB Outlet Car Chargers are wonderful promotional products and corporate gifts. Our most popular are our custom USB car chargers that can charge most any mobile device when you are on the road. This handy solution helps to charge your mobile phone in the car easily and quickly.

Just plug into your cigarette lighter socket, and you have a readily available USB charging source. 12V, 1 Amp makes it suitable for charging smartphones, and any other USB device via your device's original USB cable. With the input DC - 12-24V and output DC - 5V-1AP, no need to worry about battery anymore! Plus, why not make your service reminders to customers by this way? Let WA PRINTING customize your specifications to enhance your marketing shares, you will see how effective they are!
To ask for a quote, please reach us at provided addresses, WA PRINTING are ready to serve you in both Perth and Midland.