LL1402 4-In-1 2 Metre Tape Measure
Step 2
Upload attachments
Please ensure that your file type must be TIF, BMP, GIF, JPEG, ZIP, PDF or DOC. The maximum capacity total for your uploaded file must be less than 30Mb.
* Wa Printing accepts NO responsibility for any copyright issues from the files you upload.
Comment for product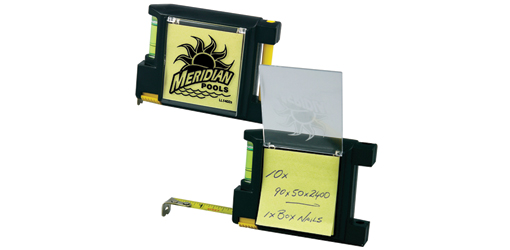 Description
Answer & Questions
Turn the tape measures into special ones to make impressions with your customers- 4 in 1 2 meter tape measures from WA PRINTING.

Included silver belt clip, yellow pen, yellow note pad, spirit level, they also have a push button for tape meassure release. We offer a range of colors, pad prints for your choice: Black/Yellow Size - 80mmL x 63mmH x 30mmD Decoration Area(s) - Pad Print: Front - Square 40mmL x 40mmH.

Let the customers keep your brand image in their minds all the times.