LL31450s Corporate Colour Mini Jelly Beans in 60 G
Step 2
Upload attachments
Please ensure that your file type must be TIF, BMP, GIF, JPEG, ZIP, PDF or DOC. The maximum capacity total for your uploaded file must be less than 30Mb.
* Wa Printing accepts NO responsibility for any copyright issues from the files you upload.
Comment for product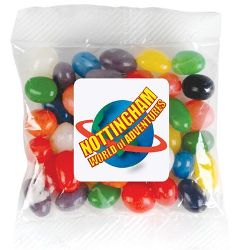 Description
Answer & Questions
Let your customers back to their childhoods with an assortment of jelly beans from WA PRINTING.

You can freely choose the colors to match your corporate colors from the collection as well as the size of cello bag. The delicious taste of the jelly beans take them back to nice memories of being young. Let them be grateful to you for giving them such sweet candies and remember your brand as naturally. Customize the bag with your logos and patterns for far-reaching impacts to other customers. For any questions of the products, make a request to WA PRINTING offices. WA PRINTING is offering special offers currently, so don't miss this opportunity!
ITEM SIZE(MM) 80L x 110H (Approx).
PRINT AREA(MM) Square - Up to 50L x 50H, Round - Up to 45 Diameter., Rectangular Label - Up to 55L x 30H.
LABEL SIZE (MM) 50H x 50L, 45 Diameter, 55L x 30H.
COLOURS Clear.
MATERIALS Plastic.