LL555s Assorted Colour Lollipops
Step 2
Upload attachments
Please ensure that your file type must be TIF, BMP, GIF, JPEG, ZIP, PDF or DOC. The maximum capacity total for your uploaded file must be less than 30Mb.
* Wa Printing accepts NO responsibility for any copyright issues from the files you upload.
Comment for product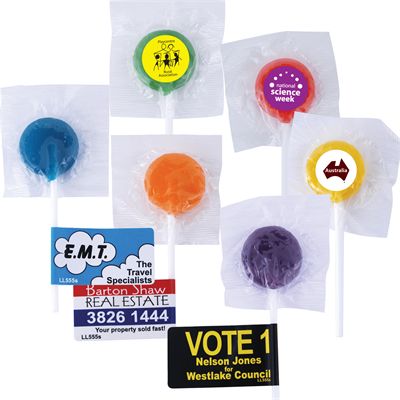 Description
Answer & Questions
Let customers get lost in the world of assorted color lollipops with WA PRINTING.

The candies are individually cello wrapped with six fruit flavors with range of colors for your choice. Decoration options include 19mm or 32mm diameter label applied to cello bag, 4cp double sided flag label folded onto stick or a 4cp business card attached to lollipop stick. Want to make an order?

Please feel free to contact us at stores in Perth and Midland, we will support you to have the most suitable products.

ITEM SIZE(MM) 27 Diameter (approx).
PRINT AREA(MM) Round Label - Up to 16 Diameter, Background colour - 19 Diameter, Round Label - Up to 32 Diameter, Flag Label - 97L x 26H.
LABEL SIZE (MM) Round Label - 19 Diameter, Round Label - 32 Diameter, Flag Label - 97L x 26H.
MATERIALS Cellophane Bag.
COLOURS Assorted Red,Yellow, Blue, Green, Orange, Purple.
LABEL COLOUR White. Request quote for more complex labels.