LL72s Rectangular Pencil Sharpener
Step 2
Upload attachments
Please ensure that your file type must be TIF, BMP, GIF, JPEG, ZIP, PDF or DOC. The maximum capacity total for your uploaded file must be less than 30Mb.
* Wa Printing accepts NO responsibility for any copyright issues from the files you upload.
Comment for product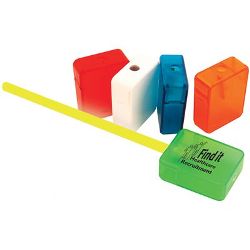 Description
Answer & Questions
Little things are handy and powerful for marketing campaigns. Rectangular pencil sharpeners from WA PRINTING feature your company logos and images, bringing your business closer to customers.

They can be used for daily paper tasks with specially designed lift off lid enabling clean disposal of pencil shavings.

Make a call to our service team for more product details; WA PRINTING is now Perth and Midland already!
ITEM SIZE(MM) 53L x 42H x 19D.
PRINT AREA(MM) Pad Printed - 40L x 30H, 4CP Direct Digital Print - 52L x 41H.
COLOURS Red, Blue, Green, Orange, White.
MATERIALS Plastic.