LL8861s House Bookmark/Ruler with Noteflags
Step 2
Upload attachments
Please ensure that your file type must be TIF, BMP, GIF, JPEG, ZIP, PDF or DOC. The maximum capacity total for your uploaded file must be less than 30Mb.
* Wa Printing accepts NO responsibility for any copyright issues from the files you upload.
Comment for product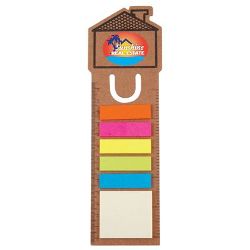 Description
Answer & Questions
Enhance your business images with house bookmark/ruler with noteflags- a very effective but low cost solution form WA PRINTING.

Featuring house- shaped products, they contain a block of repositional notepads with 15 leaves and 5 adhesive noteflags with 15 leaves of different colors, making excellent promotional giveaways at book fairs or schooling events.

To make an inquiry , please contact us at WA PRINTING offices in Perth and Midland.
ITEM SIZE(MM) 69L x 211H.
PRINT AREA(MM) Up to Oval - 39L x 29H, Rectangular - 55L x 30H.
LABEL SIZE (MM) Oval - 39L x 29H, Rectangular - 55L x 30H.
COLOURS Natural, Assorted Colour Noteflags.
MATERIALS Paper.