LL9153s Star Massager
Step 2
Upload attachments
Please ensure that your file type must be TIF, BMP, GIF, JPEG, ZIP, PDF or DOC. The maximum capacity total for your uploaded file must be less than 30Mb.
* Wa Printing accepts NO responsibility for any copyright issues from the files you upload.
Comment for product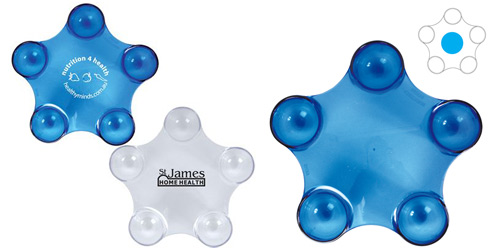 Description
Answer & Questions
You want to release stress by an easy way? A very practical suggestion is star massager from WA PRINTING.
Star shaped designs enable you to fit one finger in each cup. If you want optimum massage, use two star massagers one in each hand.

Let WA PRINTING help you leave business images and logos on these relaxing products for long lasting impacts towards your marketing purposes.


ITEM SIZE(MM) 120 Dia x 40H.
PRINT AREA(MM) Top - 40 Dia.
COLOURS Clear, Transparent Blue.
MATERIALS Polycarbonate.