LL9361 Tiny Cube Bluetooth Speaker with Hands Free
Step 2
Upload attachments
Please ensure that your file type must be TIF, BMP, GIF, JPEG, ZIP, PDF or DOC. The maximum capacity total for your uploaded file must be less than 30Mb.
* Wa Printing accepts NO responsibility for any copyright issues from the files you upload.
Comment for product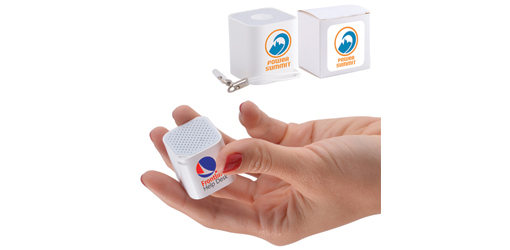 Description
Answer & Questions
Different from usual speaker which is rather big and not really handy, tiny cube Bluetooth speaker with hands free is a much more innovative one.

Equipped with lithium-ion battery and attached lanyard and jack, it is suitable for connection into 3.5 mm headphone sockets. You can freely enjoy melodious lyrics for more 3 hour play time without being afraid of power shortage, it now can be charged from USB source. Why not take this perfect suggestion for the next time promotional product? Being customized with logos and patterns, your customers will be impressed a lot! You may have pad print or digital full color print option at very affordable costs.

To make an inquiry, please give us a call to offices in Perth and Midland, you will be surely happy with our service.