LL9404 Family Light Up 3 in 1 Cable
Step 2
Upload attachments
Please ensure that your file type must be TIF, BMP, GIF, JPEG, ZIP, PDF or DOC. The maximum capacity total for your uploaded file must be less than 30Mb.
* Wa Printing accepts NO responsibility for any copyright issues from the files you upload.
Comment for product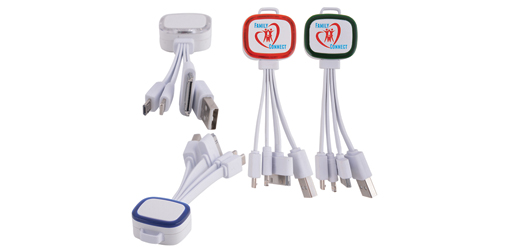 Description
Answer & Questions
A very handy combination of 3 in 1 USB connector cable with micro USB ,8 pin and 30 pin, you can conveniently transfer data and charge for battery when in need with choice of 4 illuminating color rings.

You can also mix and match with other family item to make use of the best from this wonderful device. As evaluated to be convenient and commonly used, why not you try out with this product for marketing aims. Customers will highly appreciate if being given such giveaway. Have your brand image imprinted with WA PRITNING service to make lasting impression.

Visit WAPRINTING offices now for more information and receive special discounts from us!