LL970s Mini Mobile Phone Ballpoint Pen
Step 2
Upload attachments
Please ensure that your file type must be TIF, BMP, GIF, JPEG, ZIP, PDF or DOC. The maximum capacity total for your uploaded file must be less than 30Mb.
* Wa Printing accepts NO responsibility for any copyright issues from the files you upload.
Comment for product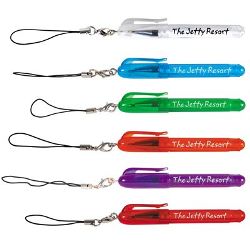 Description
Answer & Questions
The mini mobile phone ballpoint pens are great promotional gifts for all customers of all ages.

They are really stylish and trendy for all users with a black loop on thumb trigger which can be attached to most lanyards and mobile phones. They also have a pull cap action and black half size standard ink refill. Strengthen your business images with WA PRINTING services for logos and brand name, you will have a range of colors to match with your business. Measuring 83mmL x 9mm, you have an ample space for imprinting intended information easily.

To ask for a quote as well as relevant information, visit us today for the best service.
ITEM SIZE(MM) 83L x 9Dia (not including cord).a
PRINT AREA(MM) Pad - 32L x 5H., Roll - 30L x 19H.
COLOURS Red, Clear, Blue, Purple, Orange, Green.
MATERIALS Plastic.