LL506 Calico Library Back Pack with Drawstrings -
Step 2
Upload attachments
Please ensure that your file type must be TIF, BMP, GIF, JPEG, ZIP, PDF or DOC. The maximum capacity total for your uploaded file must be less than 30Mb.
* Wa Printing accepts NO responsibility for any copyright issues from the files you upload.
Comment for product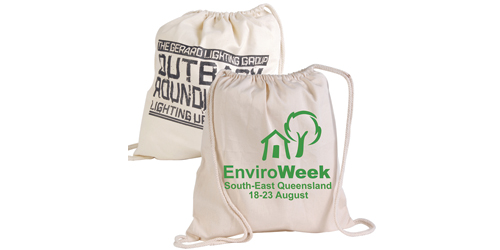 Description
Answer & Questions
More and more environmental projects are being carried out widely, this leads to hundreds of environment meetings are held to review works.

For meeting like this, if you want to leave something special and meaningful to customers, calico library back pack with drawstrings is a good suggestion. Calico back pack with double cotton rope drawstrings is ideal environment-related campaigns, since it is made from a renewable resource and can be continually reused. Make it more impressive with attentive messages to all customers as part of community in saving living surroundings.

WA PRINTING has a range of options for your choice, so come to our offices for more advice if necessary. WA PRINTING always guarantees the highest quality products for you!