LN6110 Custom Inflatable Bang Bang Sticks
Step 2
Upload attachments
Please ensure that your file type must be TIF, BMP, GIF, JPEG, ZIP, PDF or DOC. The maximum capacity total for your uploaded file must be less than 30Mb.
* Wa Printing accepts NO responsibility for any copyright issues from the files you upload.
Comment for product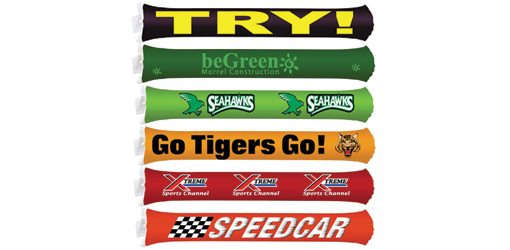 Description
Answer & Questions
Inflatable bang bang sticks are really perfect noisemakers for sporting events, parades, rallies or sales meetings….

These special sticks are the most visible, cost effective and unique promotional products of many business brands today. Made of two inflatable white polyethylene sealed tubes, they will make your events more exciting by clasping together. More interestingly, you will easily advertise your images through provided space for logos and messages imprints with various sizes and shapes. Receiving attentions of different people, you brand now can spread far and wide.
If you want to make an order, come to WA PRINTING offices now in Perth and Midland, service team will consult you the most desirable products. Come and enjoy more special discounts from us!