Self ink stamp
Instant Pricing
Quantity

1000

Sale %

Design artwork

Mailing Services

Mail To

Upload Address File

0.0

0

Add To Cart

No Price

Ask Printing Quote

0|0|40.00|0.00|1-1360-1359;0|0|50.00|0.00|1-1361-1359;0|0|53.00|0.00|1-1362-1359;0|0|89.00|0.00|1-1363-1359
{js_price_for_one}
{js_price_for_size}
{js_price_for_mailing}
3486
Step 2
Upload attachments
Please ensure that your file type must be TIF, BMP, GIF, JPEG, ZIP, PDF or DOC. The maximum capacity total for your uploaded file must be less than 30Mb.
* Wa Printing accepts NO responsibility for any copyright issues from the files you upload.
Comment for product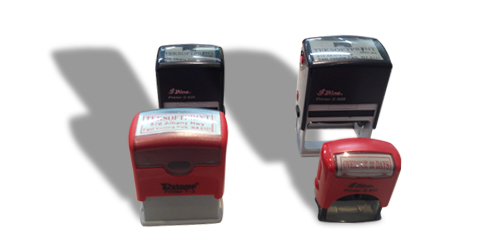 Description
Answer & Questions
Self-ink stamp is significantly versatile kind of stationery that helps you to accomplish a wide range of office tasks.

You will have your works done easily with just a pressing action. Using a single self- ink stamp, you can mark over thousands of impressions with a simple action of pressing with mark a clear print. Plus, stamps are made from durable materials and this allows you to use more frequently on any surface and are ideally used for invoices, statements accounts. WA PRINTING self-ink stamps are fantastic way to personalize your business stationery and documents. You have a range of sizes, colors and shapes to choose from, making your stamp distinct from the others.
Do want to make an order, just give us a call to office either in Perth or Midland, service team will help you to have the most desirable self-ink stamp.