Dinning Menu / Dine in Menu
Step 2
Upload attachments
Please ensure that your file type must be TIF, BMP, GIF, JPEG, ZIP, PDF or DOC. The maximum capacity total for your uploaded file must be less than 30Mb.
* Wa Printing accepts NO responsibility for any copyright issues from the files you upload.
Comment for product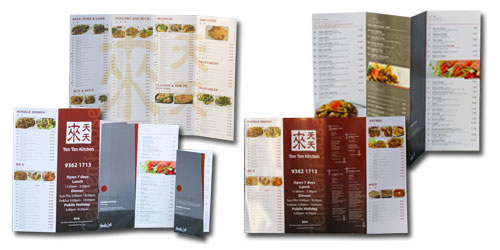 Description
Answer & Questions
What attracts customers' attention first when they are in a restaurant? The answer is menu, of course. A beautifully and professionally designed menu tells says a lot about your restaurant. The quality and design of your menu is essential to engaging new customers and keeping old ones.

At WA PRINTING, custom make dinning menu designs to suit your business needs and the image your wish to project to your customers. Your menus can be personalized with lamination or printed with full colors in combination of a gloss or matt finish. WA PRINTING offers a wide range of size and stock options for you to choose from including:
- A3 No fold
-A3 folded to A4
-A4 booklet containing 8 pages
- A4 booklet containing 12 pages

If you have any inquiries, please feel free to reach us at stores located in Perth and Midland, our WA PRINTING qualified designers will be happy to assist you in any way.