Presentation Folders
Instant Pricing
Print size

Print type

Paper type

Quantity

1000

Sale %

Design artwork

Mailing Services

Mail To

Upload Address File

0.0

0

Add To Cart

No Price

Ask Printing Quote

0|0|840.00|0.00|500-1384-1354-1651;0|0|1030.00|0.00|1000-1384-1354-1651;0|0|1499.00|0.00|2000-1384-1354-1651;0|0|1289.00|0.00|500-1384-1364-1651;0|0|1500.00|0.00|1000-1384-1364-1651;0|0|1810.00|0.00|2000-1384-1364-1651
{js_price_for_one}
{js_price_for_size}
{js_price_for_mailing}
3397
Step 2
Upload attachments
Please ensure that your file type must be TIF, BMP, GIF, JPEG, ZIP, PDF or DOC. The maximum capacity total for your uploaded file must be less than 30Mb.
* Wa Printing accepts NO responsibility for any copyright issues from the files you upload.
Comment for product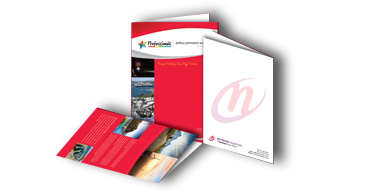 Description
Answer & Questions
Presentation folders are great for sales presentations, reports, and projects with a professional look. These custom business folders are ideal for storing and delivering information for clients and business partners. Presentation folders are the perfect way to organize your business in a professional and sophisticated manner. Our folders are printed on high quality card board stock ensuring they are durable and effectively protect your documents.

At WA PRINTING, we offer various designs and finishes of your choice. Customize your folders with your business name, logo, and image with your own business colors on both the front and the back of the folder. To add a touch of class glossy or matt finish options are available.
Our print and design team at WA PRINTING will help you achieve the results you are looking for. Our presentation folders are competitively priced and can be made available for express printing for those of you who need them in a hurry.

Please contact WA PRINTING to discuss presentation folders or make an order. Our Customer service is excellent, come visit us today in one of our stores located in Perth and Midland. Alternatively contact us via our website, phone, or mail and we will be happy to assist you in any way.