A Frame
Instant Pricing
Quantity

1000

Sale %

Design artwork

Printing turnarround

Mailing Services

Mail To

Upload Address File

0.0

0

Add To Cart

No Price

Ask Printing Quote

0|0|210.00|0.00|1-1352-1348;0|0|490.00|0.00|1-1353-1348
1|5|199.00|0.00|1-1352-1348;1|5|490.00|0.00|1-1353-1348
{js_price_for_size}
{js_price_for_mailing}
3502
Step 2
Upload attachments
Please ensure that your file type must be TIF, BMP, GIF, JPEG, ZIP, PDF or DOC. The maximum capacity total for your uploaded file must be less than 30Mb.
* Wa Printing accepts NO responsibility for any copyright issues from the files you upload.
Comment for product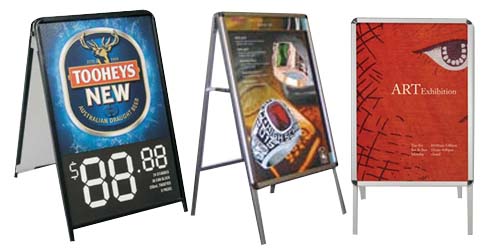 Description
Answer & Questions
A-Frames are versatile inexpensive sign solution for marketing campaigns. They are ideal for sidewalk display for more frequent exposures for customers. They help customers locate your business and entice them to come in. Most importantly A-frame and water and weather proof making the perfect outdoor display item for any surface from grass to pavement.

A Frame signs are made from PVC and Metal to construct a solid and durable frame to display your company's details, products or promotions. A-Frames feature characteristics that allow them to be versatile and used for many different uses. Our A-frame have the following features;
• Printing on both sides
• Excellent appearance
• It is easy to change signage
• It is easy to store as it can be folded

For more details about A-Frames, please contact us at our Midland store or Perth stores. Speak to one of our friendly WA PRINTING staff members for more information.